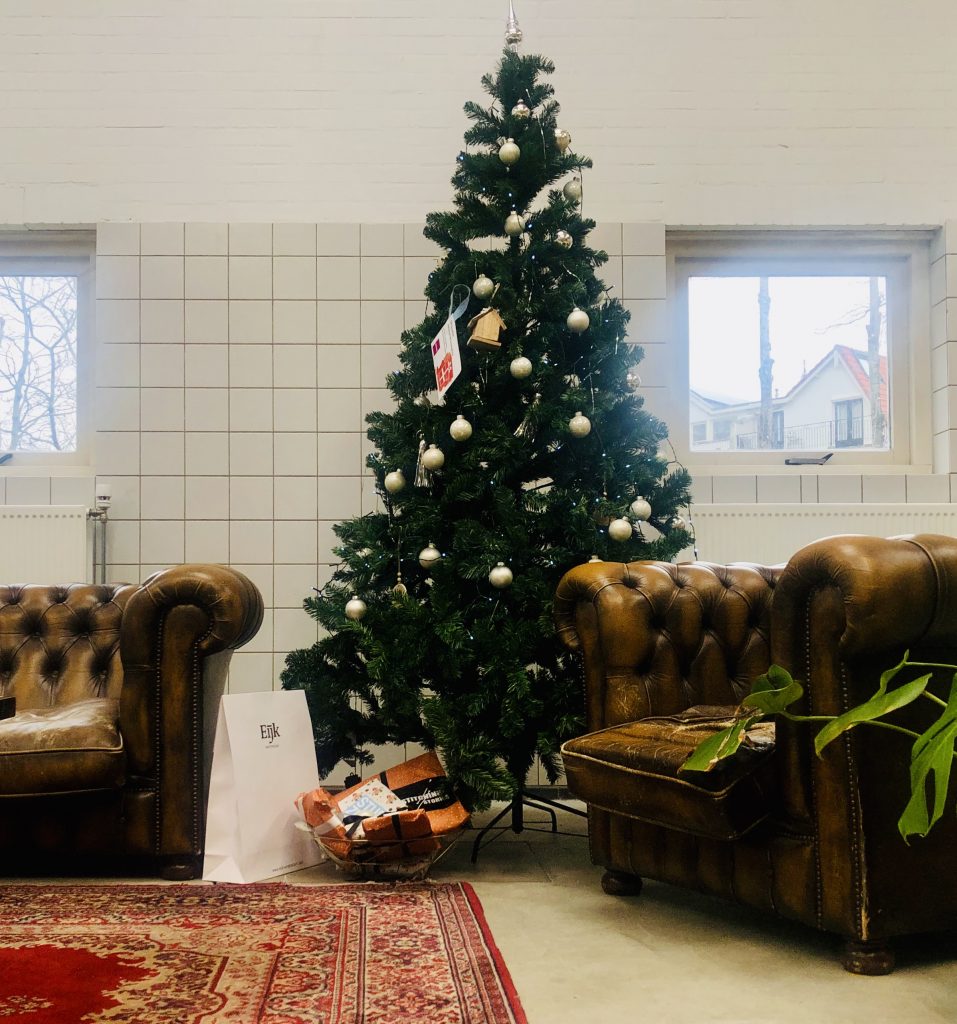 news
The Gift Tip Advent Calendar
We are using the last weeks of the advent calendar to spread a whole lot of extra inspiration, splendor and joy, that is why we have asked the residents of De Wasserij about their favorite Christmas gift tip! Each day, one of them will unpack their gift tip and we will share them here with you!
#1 Atelier Markx unpacks: Vintage screen-printed scarves
Check the IGTV video!
The pure silk scarves of Atelier Markx are unique and ethically made, using high-quality existing materials: leftover stock and vintage couture fabrics.
€125.00
Purchase here!
#2 Stitching stories unpacks: A t-shirt and sweater from the Smeltkroes collection.
Check the IGTV video!
A unisex crewneck sweater and t-shirt made from 100% cotton. The print is a visualisation of Rotterdam Noord station  and a "mattenklopper" merged together.
€43.00 / €50.00
Go to the webshop and use the promocode 'holidayspecial' for 20% off!
#3 Marlou Verheijden unpacks: An agenda from post-modern.
Check the IGTV video!
An A5 2021 agenda including plenty of pages for notes and full of post-modern collages.
€30.00
Buy it on the website and start 2021 organized!
#4 Kukka unpacks: A silk scarf from Kukka's entomology collection.
Check the IGTV video!
A limited edition high-end semi sheer silk scarf from 100% natural fibres, printed using cutting edge digital technology and individually finished with a 4 mm hem.
€119.00
Purchase here!
#5 The Brand Company unpacks: Eau de parfum 602 from bon Parfumeur.
Check the IGTV video!
The eau de parfum starts with neroli luminous notes then meets the fresh scent of St Thomas berries. The heart unveils a spicy character with black pepper from Madagascar, Somalian encent and cedar notes.
€82.00
Buy it on the webshop of Bon Parfumeur!
#6 Studio Zeep unpacks: A voucher for renting the photography studio.
Check de IGTV video!
Two hours of access to a professional photography studio, €75.00 in total.
+ a professional photographer, €125.00 in total.
Find out more visiting the website!
#7 Eijk unpacks: Ryan ankle boots in python.
Check de IGTV video!
The boots are designed in the Netherlands for comfortable feet, and fabricated in Italy with the best leather and available from size 37 to 41.
€345.00
Purchase them here and look fabulous this Christmas!
#8 Arí van Twillert unpacks: The Water Drift Earring.
Check the IGTV video!
The shape of this ring is based on a graph of water levels in the Boezemgemalen (water pump stations) during heavy rain in 2017.
It is created using special 3D printing technologies and available in silver and gold.
€75.00
Get the earring, and more, here!
#9 Ilfa Siebenhaar unpacks: The Original scarf.
Check the IGTV video!
A silk scarf with a black screen-printed illustration of the 14 moon cycle. You can personalize the scarf yourself by painting it with flowers. A couple of basic painting ingredients are included. Upon purchase you get a Twilly flower scarf for free!
100×100 cm €129.00
60×190 cm €149.00
Get it by emailing and surprise someone with this personalized gift!
#10 Zadkine Beauty & Fashion college unpacks: A voucher for a hand-made recycled bag or bucket hat.
Check the IGTV video!
The students of Zadkine are creating hand-made recycled items with help of the garments of the Swapshop.
These unique items made by young talent make a perfect Christmas gift.
€65.00
Get the voucher by emailing!
#11 Esther Muñoz Grootveld unpacks: The De Wasserij giftcard.
Check the IGTV video!
Our gift card can be used to book a course, workshop, masterclass or introduction course in De Wasserij's Makerslab. In our workshops you will learn one or more making techniques, such as embroidery, laser cutting or screen printing.
Available from €25.00 on
Would you like to make someone's Christmas with this cool gift?
Send an email for more info!